First Channel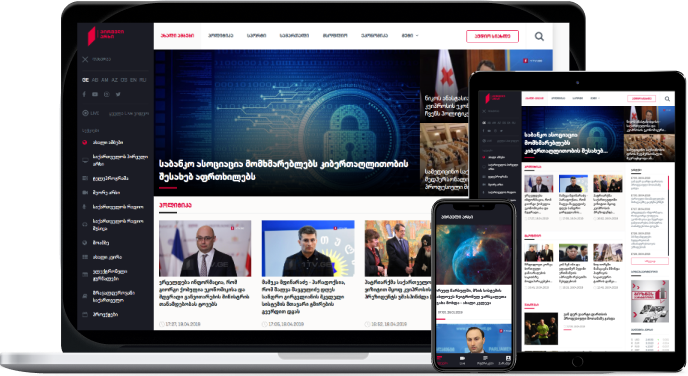 Established back in 1956, First Channel is Georgia's public broadcaster and the oldest TV channel in Georgia. In 2016 First Channel's management launched a large-scale rebranding campaign. The key element of rebranding was an online news platform. First Channel aims at becoming a leading news source online, providing trustworthy information in a timely manner and contributing to a larger goal of building an informed society. This high standard requires technologically sound web platform with flawless performance. The user-friendly interface is essential for its readers and the many editors of the Channel.
Webintelligence team got engaged in the rebranding project from the very beginning. We co-developed the concept, design, and the actual platform on WordPress CMS. Our team was also involved in setting up the server infrastructure. For more than 2 years now, Webintelligence has been providing regular technical support to the Channel, including further fine-tuning and development of the platform and other web products.
Together, First Channel and Webintelligence have developed a news platform with the following features:
Content in 7 languages
2 TV channels (First Channel and the Channel 2)
2 radios (Georgian Radio and Georgian Radio – music)
5 thematic spaces
Automated audio news
Geoblocking of online live broadcasting
Personalized news feed on home page
First Channel has the exclusive right to live broadcast various national and international sports, musical or other events on the territory of Georgia. Since 2017, the new web platform has hosted tens of thousands of unique viewers at the same time watching the FIFA World Cup, Winter Olympics, Eurovision song contest, the Oscars and many other popular events. The website and the server infrastructure have performed very well given the pressure.
---
2 Mobile Apps
After the success of the news platform, we worked together again on 2 mobile apps – Radio Saqartvelo and 1TV News.
Radio Saqartvelo is Public Broadcaster's radio station. It's mobile app allows to tune to the live music broadcasting, read the news or listen to the shows.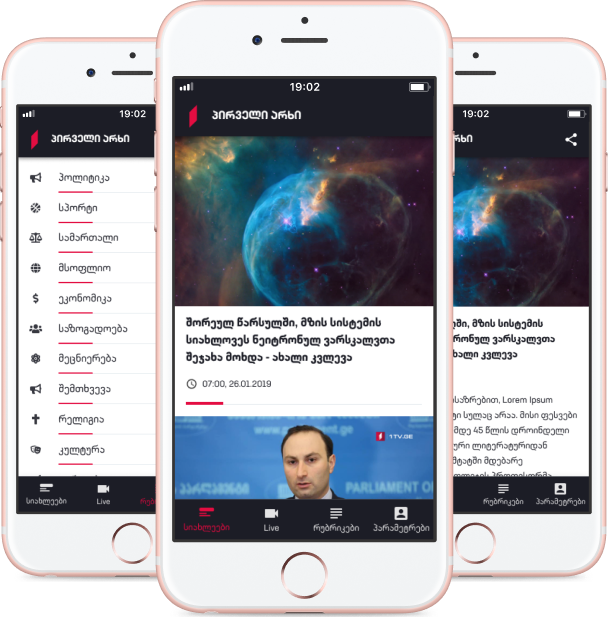 1TV NEWS is the mobile app for the First Channel's news platform.
Since the rebranding, First Channel has improved its standing in the ranking of Georgia's web by 106 positions, hosted up to 100,000 unique visitors a day; and enjoyed threefold increase in public trust.
Outsource
We can be an extension of your team and provide full product development services. Our team is flexible, accustomed to working online and in mixed teams. Get in touch.
Learn more
Tell us about your project
Do you have a project idea? tell us more about it! Contact our project manager or fill out our direct contact form and we will get back to you shortly.
Contact us