PMCG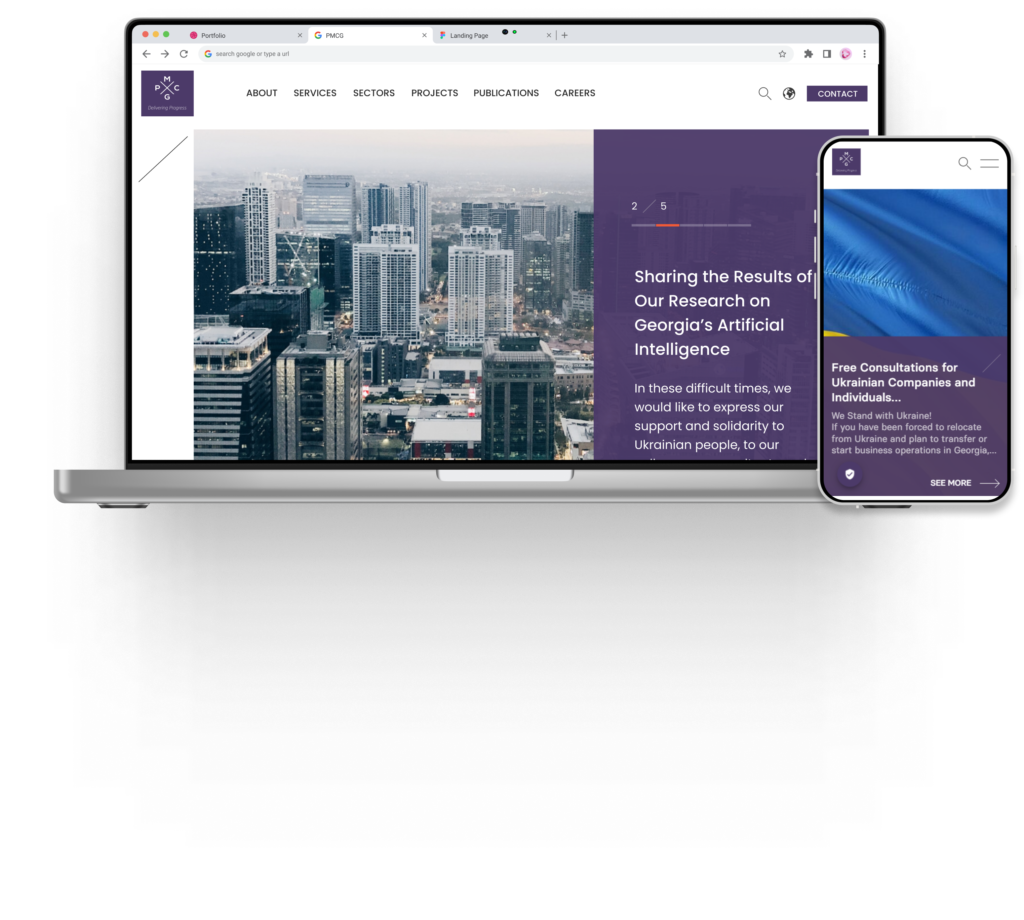 A brief overview of the partner company
The Policy and Management Consultancy Group (PMCG) is an international development consultancy whose mission is to bring about progress in transition and developing countries. PMCG specializes in policy consulting, institutional and organizational development, operational excellence, monitoring and evaluation, engineering consulting, business development consulting services, and research.
2022 –www.pmcg-i.com – Website for PMCG Presentation
The main goal of the company
pmcg-i.com – is in accordance with international standards, a functional website was created through which the user would receive information about PMCG projects and activities worldwide.
Duration of the project: 6 months
Project management methodology: a combination of the Agile and Waterfall project management approaches. Waterfall enables us to efficiently manage time-limited projects, whereas Agile provides us the capacity to adapt rapidly and be ready to face new difficulties.
The Webintelligence team
Our company's project team members include: project manager Nino Chagunava, front-end developers Sergi Kupreishvili, back-end developers Buka Nadirashvili, and Germane Kupreishvili.
Our main challenge while working on this project
Working on the project required effective communication, which was also fascinating. The effort was much more diverse because it included people from Germany, Georgia, and Poland. Webintellengece used Jira to manage internal procedures for this reason, and the partner company had full access to the current processes through Asana, which has a user-friendly interface, and the project was totally transparent to them. To precisely track the project's development, the customer received a weekly activity report. It's also crucial to note the difficulties that arise when dealing with international partners in terms of security, SEO, and design.
Our main goal
We developed a product that adheres to international standards and is carefully suited to the target consumer utilizing contemporary methodologies.
How complex and multifaceted was the project?
The difficulties in matching various posting types made content transfer much more complex. One of the points is content migration since it was necessary to convey the information that had been accumulated through time, these were only a few of the many details that needed to be taken into account for efficient project management. 
Main achievements – the main goal of the project
The primary success of the project is the user's exposure to the most original, polished, and organized content. You may quickly manage the page thanks to the admin panel's features. WordPress Admin makes it simple to manage the website's content, use the admin panel, and add plugins and features despite the project's versatility and complexity. The potential user sees an easy web environment where he can easily access relevant information for them.
Main benefits of the project
In response to contemporary trends, Polish designers developed UX design, which is focused on research into possible user resources.

Simple admin panel: its administration doesn't need expert training or retraining.

Despite the information overload, the amount of information is organized in a clear and intelligible manner.

The website's visibility in the search engine has increased thanks to the employment of the SEO (Search Engine Optimization) search strategy

Redirect -instructing web browsers to redirect users of an outdated URL to a fresh one.

Google analytics -a platform that gathers information from your applications and websites to provide reports that give you insights into how well your business is doing.

Safety and Data Privacy
Project post launch support services
The project was completed successfully, we are currently providing technical help to the company, and several enhancements are in the works for the future.
Work on creating a design
Design was the most challenging and demanding component. We worked with a Polish company modulus.vision that created a clear, straightforward design. The project merits a much better degree of appraisal given their ambition and experience.
Website performance and security
A website's integrated SEO system improves the technical settings, content relevancy, and link popularity of a website in order to make its pages more accessible, relevant, and popular for user search queries. The website is equipped with security technologies that use threat hunting, investigation, and response capabilities to swiftly identify and lessen the effect of security threats and hazards.
The website of pmcg-i.com receives visitors from all over the world since it is a worldwide corporation with projects in 35 countries around Eastern Europe, Asia, the Middle East, and Africa, as well as Georgia and Ukraine.
Outsource
We can be an extension of your team and provide full product development services. Our team is flexible, accustomed to working online and in mixed teams. Get in touch.
Learn more
Tell us about your project
Do you have a project idea? tell us more about it! Contact our project manager or fill out our direct contact form and we will get back to you shortly.
Contact us